The Fraser Range Project is located within the Albany-Fraser Orogen approximately 100km east of Norseman and covers in excess of 500km² in a prospective portion of the Fraser Range. Constellation Resources Ltd (ASX: CR1) holds a 70% interest and funds and manages exploration on the four Orpheus Joint Venture tenements and Enterprise holds a 30% free carried interest to completion of a bankable feasibility stage (BFS) on any discovery.
The Orpheus Joint Venture's northern most Exploration Licence 28/2403 lies approximately 25km SSW of Legend Mining Ltd's (ASX: LEG) Mawson nickel sulphide discovery, first reported in December 2019.
In April 2020, Constellation commenced a maiden air core drilling program to test five of ten high priority geophysical targets that were identified across the northern "Transline" tenements. The 21 hole drilling program comprised of 15,102m on a broad 500m x 400m grid pattern, with selected traverses reduced to 200m centres, identified Ni-Cu-Co anomalous zones along with an interpreted intrusive suite of olivine gabbros, pyroxenites and ultramafic rocks. The positive results support the potential for Ni-Cu-Co sulphides to be hosted within mafic intrusions in the area.
Assay results returned from the drilling highlighted five discrete Ni-Cu-Co geochemical footprints over geophysical Targets 1, 2 and 4 with a cumulative area of over 1.4km2 (Figure 2).  Constellation is presently undertaking a Low Frequency (~0.125Hz) MLTEM survey over these targets with the aim of identifying basement conductors linked to the geochemical footprints. Deeper drilling (reverse circulation and/or diamond) to determine whether the conductor source is due to the presence of massive nickel sulphides will be undertaken.
Figure 1.  Magnetic Image, Tenement E28/2403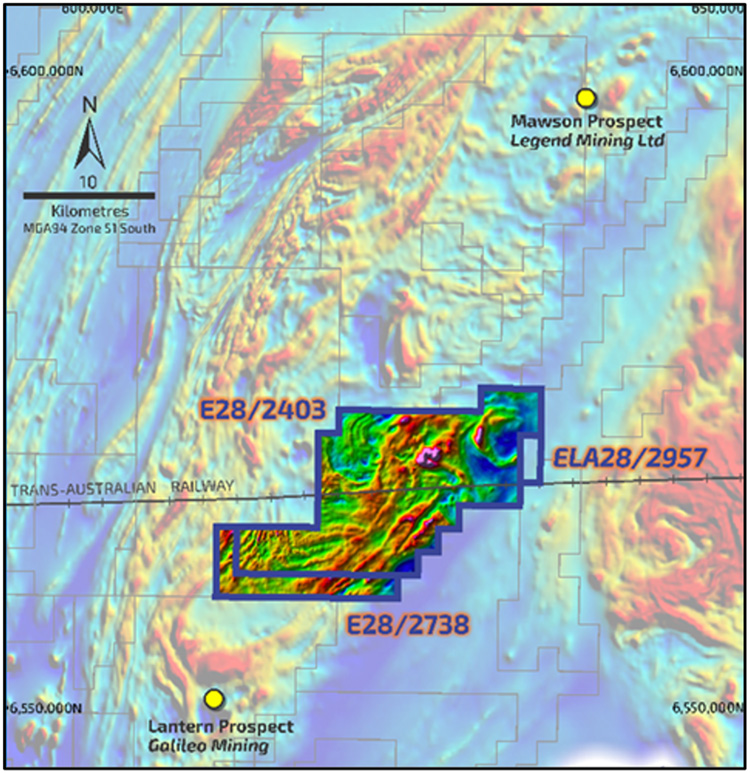 Figure 2.  E28/2403 & E28/2738 – Drill Targets over Magnetic Data Image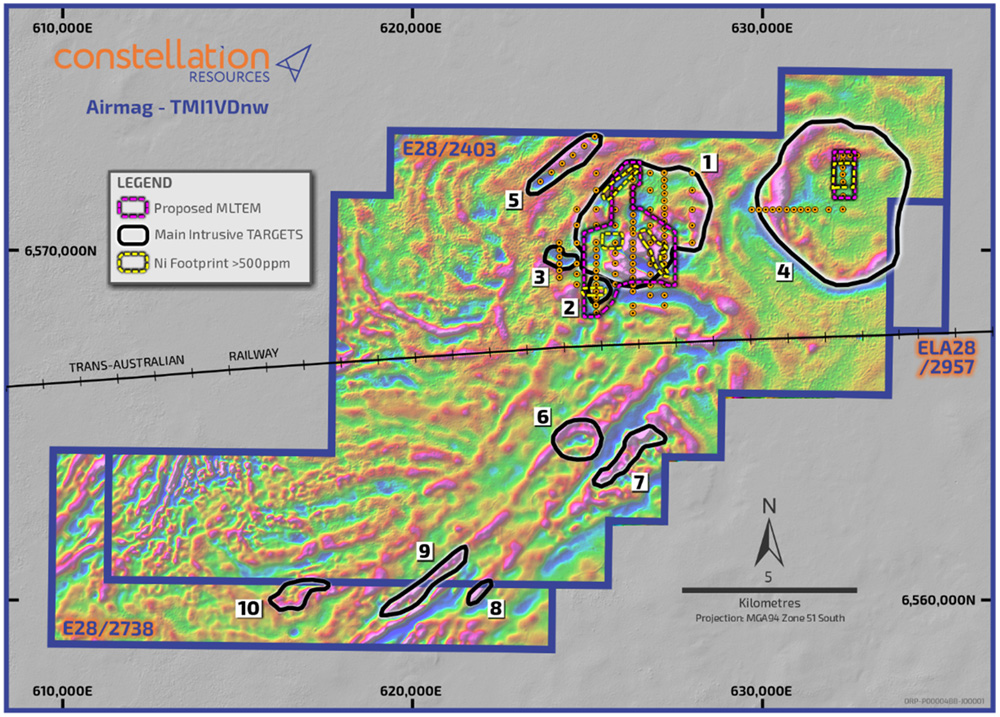 Note:  E28/2403: 70% CR1, 30% ENT.              E28/2738: 100% CR1