Enterprise's Murchison Project landholdings are centred 30km north of Cue and 35km north-east of the Big Bell Gold Mine and form a semi-contiguous landholding of approximately 750km2 over a buried greenstone belt. This portion of the greenstone belt has been under-explored due to the presence of regolith cover and lack of outcrop and represents an exciting exploration target for gold and copper/zinc.
The Project area sits within a well-endowed region, with major gold deposits such as Big Bell (5.3 Moz production, operated by Westgold Resources Ltd) and the nearby historical Day Dawn mine (2.6 Moz production).  (Figure 1)
Figure 1.  Murchison Project, Geology & Major Competitor Landholdings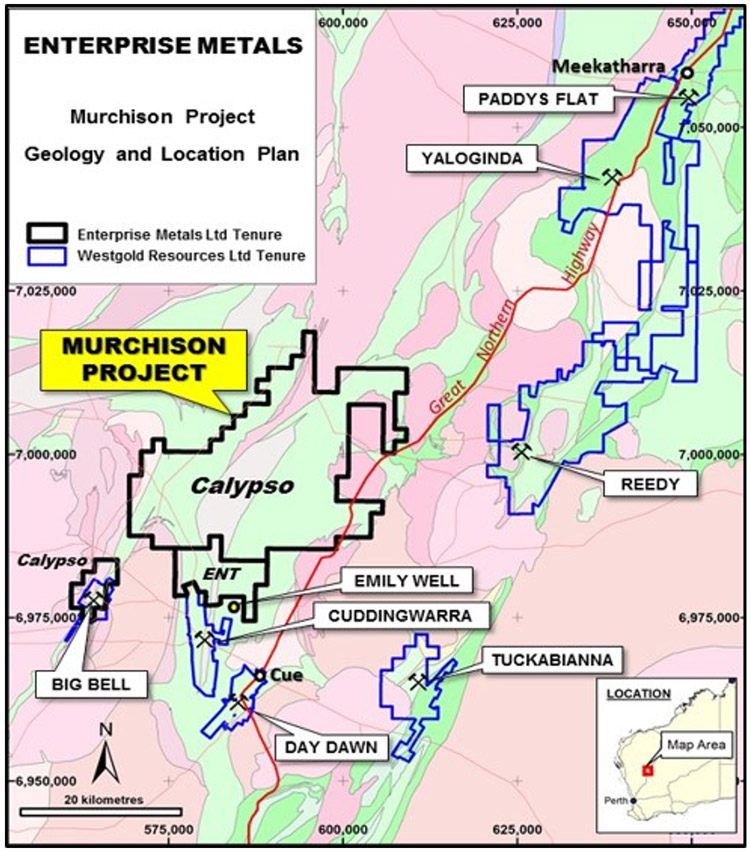 Following the grant of the Murchison tenements in May 2018, Enterprise completed two detailed airborne magnetic and radiometric surveys, each with a line spacing of 50m and flying height of 30m. To complement Enterprise's initial work, Evolution covered the entire project area with 5,641 gravity station readings and completed planning for 26,000m of aircore drilling (total 452 holes) over the northern extensions of the Big Bell and Cuddingwarra Shear Zones. Evolution also completed extensive heritage clearance surveys over the planned drilling areas.
Evolution completed 50 line km of Passive Seismic and 101 AC holes (6,923m) over the Big Bell and Cuddingwarra areas prior to suspending field work in late March 2020 due to COVID-19 lockdowns.  Aircore drilling re-commenced on 30 June 2020, and final details and results of this ongoing program are awaited.
Figure 2.  Murchison Project, Grey Scale 1st VD Magnetic Imagery over Coloured Detailed Gravity VD1 Imagery with Metallogenic Data.